Interview with Erica Madden:  Erica is a successful marathon runner who had to overcome many obstacles to run her fastest marathon ever, qualifying her for the Boston Marathon!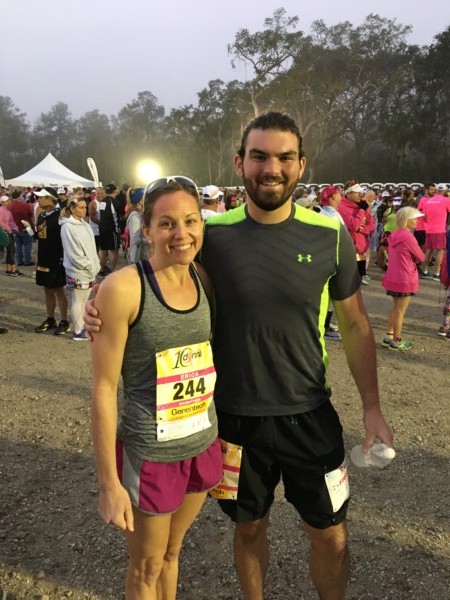 I have had the opportunity and pleasure to train Erica, as well as have her help Josh and I with completely rebuilding our website.  Anyone that knows Erica knows that she is an extremely hard working person who will do anything to accomplish her goals.  She will also do anything she can to help others.  As impressive as her physical feats are, she is equally impressive with how much she gives of her time to others.  She devotes much of her time to helping charities, start ups, and friends in need of just about anything.
We are very proud of Erica for not giving up when she hit some roadblocks upon her road to qualifying for Boston.   Here's how she got there:
J:  Tell me about your training background.  (Exercise modalities and accomplishments)
E:  I have always been into fitness – I started working out early in the morning when I was in high school. I worked at a gym over the summers, responsible for the opening shift at 5 am. The people who came in those early morning hours taught me how to lift. I got hooked on exercise, liked being in a gym… but most of the work I did with weights was more, I'll call it, "vanity training." I didn't know anything about how to functionally train for life, not to mention to be better at the activities I really loved. As I grew to love distance running during my young adult years, I found myself consistently plagued by injury, especially as I got into the heaviest part of training for races. I ran several successful marathons and long distance relay races, but I was also forced to skip races because of nagging injuries.
J:  What made you seek out a trainer?
E:  Several years ago, I stumbled into training on a recommendation from a friend after I struggled through the painful end of marathon training. I went through a complete gait overhaul, shoe changes, and a lot of training to strengthen all the muscles that weren't active. I was the typical runner – always worried about more miles instead of the strength and stretching exercises. I had never even heard of a foam roller before I started training! Needless to say, my glutes weren't helping me run, my core was non-existent, and I kept ending up injured.
I did see success from all those changes; I learned how to run again in a completely different way, my speed increased, and I was generally stronger. But two years ago, I found my running was derailed yet again. I tried to figure it out myself, got endless opinions from chiropractors, massage therapists, and PT professionals. Very slowly, I made some progress, but I still wasn't out of pain or able to consider distance running. This is when I decided to try LKN Fitness Specialists.
J:  What were your goals when starting with LNFS?
E:  I wanted to be stronger in all the right places so I could run pain free. I knew my body was breaking down because my strength wasn't where it needed to be. And I wanted to work with personal trainers who would challenge me and see things from a different perspective. I knew Jonathan would ask the right questions to determine the root of my problems and help me get to where I wanted to be.
J:  What were your race goals?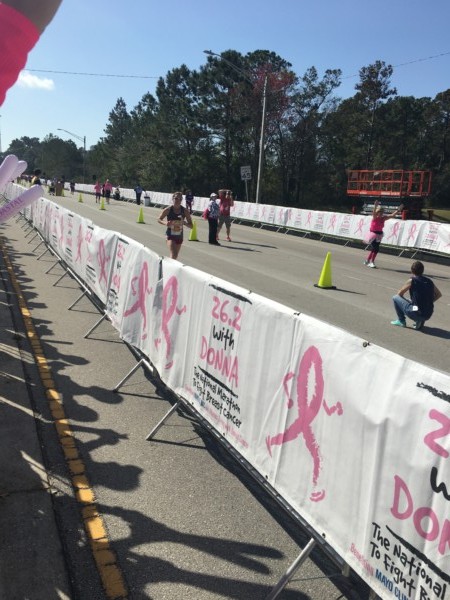 E:  Because of such a long injury battle, I honestly just wanted to make sure I finished and felt healthy when I finished … I tried not to add extra pressure by putting a time goal on the marathon. That said, qualifying for the Boston Marathon has long been on my bucket list and I felt like I had the speed for it, I just wasn't sure if my body could hold up yet.
J:  What obstacles were you going to have to overcome to reach these goals?
E:  Oh gosh, where do I begin?! This was quite literally a two-year battle, trying to peel back the layers of my hamstring injury. I had chronic pain, sitting, running … basically doing anything. I would take a few steps forward when I tried some new training or therapy, only to take several steps backward when I aimed to increase my running. Mentally it was a real challenge to keep putting in the work when I wasn't necessarily seeing the progress. I spent hours and hours foam rolling and my living room looks like a sporting goods store – I have tennis balls, lacrosse balls, softballs … you name it, they all work to get into those nagging painful spots!
J:  Besides personal training, what else were you doing to physically get where you needed to be to compete at a high level?
E:  I give A LOT of credit to Bill Meritt, owner of Catalyst Athletic Rehab and Performance. I went to him to try out dry needling, which turned out to be very beneficial. Not only was the treatment helpful, Bill saw my injury in a different light. He gave me great exercise homework assignments and I finally began to see progress. Bill helped me find all the places I was weak and the combination of he and Jonathan got me to a healthy place.
J:  Tell us about your race.  How did you mentally and physically prepare?  How did you push through when your body was telling you to quit?
E:  Well, it was definitely the most emotional race I have ever run. The race is a breast cancer marathon and I run it in memory of my mother and the many women I have lost to the disease. Couple that with the battle it was to get to race day, and I was never so overjoyed to see the finish line! I was really lucky to have a few close friends and family cheering me on – giving me Gu and fluid! – along the course. When I race and I begin to hurt, I always think of the people who aren't able to get out and run. I know there are many people who aren't physically capable of putting one foot in front of the other … and the fact that I can helps me keep going. As I got closer to the end, I would just try to focus on the next mile instead of thinking about how far I had to go. I figure, I can always go one more mile, right?
As you can see, Erica had to overcome a lot to reach that finish line!  Her success wasn't dependant on one person.  She has been working out for a long time, but she knew to take her body to the next level and get out of pain, she had to seek out some help.  I also want to thank Bill Meritt for his outstanding therapy and recommendations.  Together we were able to help Erica get to where she needed to be on race day!   
The biggest mistakes most runners make are ignoring pain thinking it's just going to magically go away and also failing to strength train.  Erica did just the opposite.  She attacked her pain head on, sought out professional help, did her homework, and was consistent with her plan.  Many runners could learn from her success.  
Erica, we are super proud of your accomplishments and we are very fortunate that you chose us to trust with your goals!  We look forward to seeing you hit many more milestones and check off more of your bucket list goals!
Jonathan Brawley, NASM-CPT, PN1